For over 30 years Dyna-Flow Corporation has provided all types of commercial construction roofing services. Whether you need roof repair or roof replacement, low slope (flat roofing) or steep slope applications, we will customize the scope to meet your needs. In order to keep the cost of roof replacement reasonable for the building owner we provide value engineering at no additional charge.
We are a licensed, bonded, and insured roofing company. We do our best to maintain the utmost professionalism in order to minimize the risk to the building owner. In today's market much of our competition is comprised of fledgling roofing companies that lack the proper experience, licensing and insurances which leave the owner exposed to unacceptable risk. Dyna-Flow brings all the credentials to the table to secure your interests. In the coming years Dyna-Flow is committed to becoming a leader in the commercial roofing industry in northern Illinois.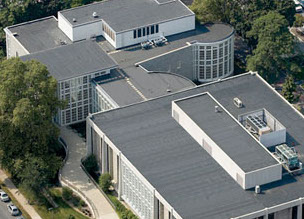 We provide licensed Carlisle Products. Properly designed Carlisle EPDM roof systems have been helping building owners in the Chicago land area reduce their building's energy costs for nearly half a century. Before your next roofing project, make sure you know all the facts about energy efficient roofing, because an EPDM roof from Carlisle, combined with a properly designed insulation system may be just what you need to help cut your building's energy costs.
Get the facts on energy efficiency at www.EnergySavingEPDM.com.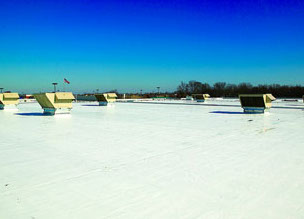 Thermoplastic polyolefin (TPO) is the fastest-growing segment in the commercial roofing industry. To take advantage of this recent popularity, a growing number of companies have begun offering TPO single-ply membranes. Unfortunately, not all TPO is created equally.
At Dyna-Flow we offer a TPO roofing system provided by the manufacturer that has been at the forefront of TPO research, development and technology since the inception of TPO as a roofing membrane: Carlisle SynTec and Dyna-Flow Corporation can provide you with a Carlisle "No Dollar Limit" manufacturer material and labor warranty. This peace of mind is offered by only certified Carlisle contractors such as Dyna-Flow Corporation.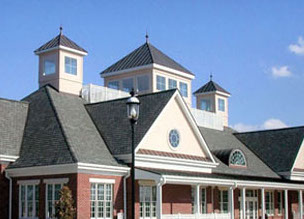 In order to meet all your commercial roofing needs we offer a full line of steep slope roofing applications from cedar shake to shingle roofing.
Our installers are highly trained and experienced in steep slope applications and are equipped to meet the highest safety and quality standards.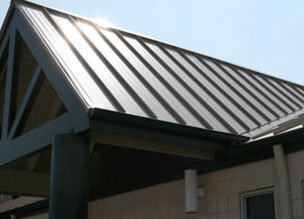 Metal adds the finishing touches to any roofing project.
At Dyna-Flow we supply and install all architectural metal coping, gravel stop, gutters and downspout, scuppers and all misc. flashings.
Whatever the spec calls for or whatever is necessary to provide top quality protection to every roof project, we are ready to customize metal to meet the need.
As science makes us more aware of the impact we have on our surroundings it becomes ever more apparent that our effective use of our natural resources must be deliberate and responsible if we intend to preserve any of the beautiful nature we enjoy today.
As a company Dyna-Flow has taken this fact to heart and put in writing. We have designed a two-fold initiative to do our part to preserve our precious natural resources.
Currently the greatest step that a construction company can take to decrease its environmental impact is to reduce the amount of construction waste that makes it to landfills. At Dyna-Flow we take every available avenue to recycle construction waste.
We are growing our line of green roofing options daily and it is our goal to be an industry leader in Chicago's Green Roofing market by 2020. We currently offer highly reflective white membrane roofing that reduces cooling energy usage. A great improvement to a properly designed roofing system is vegetative roofing. We are currently offering the best in Carlisle Syntec's Roof Garden product lines. Our newest product offering is coming soon. We are currently gearing up to offer DOW Powerhouse Solar Shingles also known as photovoltaic shingles. These shingles harness the power of the sun to be used in your home while providing protection from the elements.