For over 30 years residential exterior remodeling has been our primary specialization. In this time we have become experts in project planning and cost effective building. We have instilled our core values of quality, safety, affordability, and teamwork in every aspect of our company, to benefit you, our customer.
Dyna-Flow Corporation is a licensed, bonded, and insured exterior remodeling company. We maintain the utmost professionalism in order to minimize the risk to the homeowner. In today's market much of our competition is comprised of fledgling remodeling companies that lack the proper licensing and insurances which leave the owner exposed to unacceptable risk. Dyna-Flow brings all the credentials to the table to secure your interests.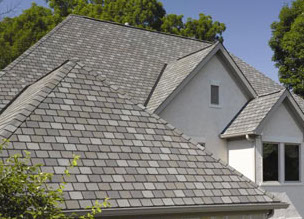 Dyna-Flow Corporation is a licensed, bonded, and insured roofing company. We do our best to maintain the utmost professionalism in order to minimize the risk to the homeowner. In today's market much of our competition is comprised of fledgling roofing companies that lack the proper licensing and insurances which leave the homeowner exposed to unacceptable risk. Please be careful when choosing a contractor for your roof replacement. We are also a member of the NRCA National Roofing Contractors Association which is an independent entity that qualifies roofing contractors based upon criteria such as licensure and the number of years in business. This organization also helps keep us on the forefront of our industry through publications and training seminars.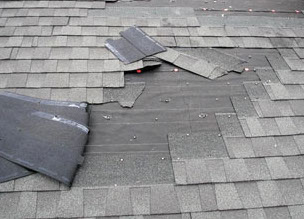 In some cases a full roof replacement can be delayed with a small repair. While roof leak repair is not generally profitable we as a company still feel it is important to provide this service to our community. Please feel free to call and speak with one of our experienced project managers to discuss any roof leaks or minor roof repairs.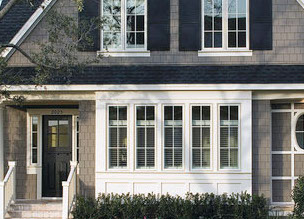 Wood or vinyl replacement windows can be the perfect way to make your home more energy efficient with a minimal cost to you. Replacement windows are available in a wide variety of styles and colors so you can find just what you're looking for not only to save money on heating and cooling costs, but also to enjoy the new look of your home. Dyna-Flow is one of few that provide Marvin windows and doors, the best in quality craftsmanship.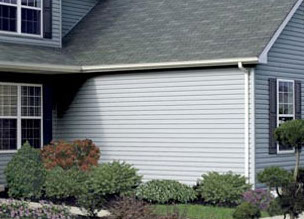 Both durable and attractive vinyl siding can protect your home with an outstanding barrier against the weather. If you have been stuck repainting your home every few years, you will save money while you update the look of your home with new vinyl siding.Vinyl siding is a low cost, maintenance free option with the look of real wood siding.
The wide variety of vinyl siding styles, colors, and accent pieces available offer limitless design options. Dyna-Flow is a Certainteed 5-Star contractor with VSI certification. We are proud to provide the best available product lines to our customers.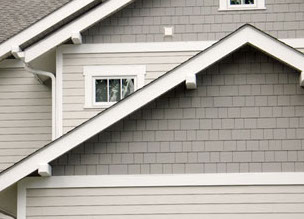 JAMES HARDIE FIBER CEMENT SIDING
Fiber cement siding uses modern technology to give you not only the look but also the strength and feel of real wood siding. James Hardie is the industry leader in fiber cement siding technology, and we at Dyna-Flow are expert Hardie installers. Our craftsmen can create just the look you're looking for.
James Hardie fiber cement siding offers a 50 year limited transferrable product warrantee, and the factory applied finish with color plus technology carries a 15 year warrantee. What does that mean to you? That means your siding can be painted any color you like, and you won't have to paint again for up to 15 years.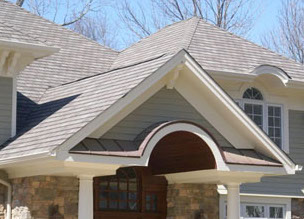 Whether you choose vinyl or fiber cement siding, any type of exterior trim can be used to accent your new siding. The most common choices are Miratec composite trim and aluminum soffit and trim capping. Miratec, while it is more costly, can offer you the largest range of accent options. Any detail that can be accomplished with real wood can be done with Miratec. Since Miratec is a painted product you can choose any color you like for your accent trim.
Aluminum soffit and trim capping is a low-cost, maintenance-free option for your accent trim. With a wide variety of colors available you'll find just what you're looking for to make your exterior remodel pop.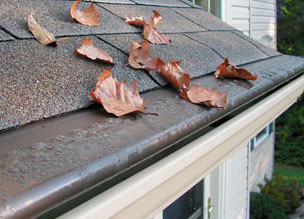 The need for gutters and downspouts is just a fact of life for nearly any Illinois homeowner. Unless you want to get wet coming out your front door or worse yet, get a leaking basement or major home damage, then you'll need rain gutters.
New gutters can also compliment your home accents and add that finishing touch to your remodeling project.
Remember to have your gutters protected and checked yearly.
As science makes us more aware of the impact we have on our surroundings it becomes ever more apparent that our effective use of our natural resources must be deliberate and responsible if we intend to preserve any of the beautiful nature we enjoy today.
As a company Dyna-Flow has taken this fact to heart and put in writing. We have designed a two-fold initiative to do our part to preserve our precious natural resources.
Currently the greatest step that a construction company can take to decrease its environmental impact is to reduce the amount of construction waste that makes it to landfills. At Dyna-Flow we take every available avenue to recycle construction waste.
We are growing our line of green roofing options daily and it is our goal to be an industry leader in Chicago's Green Roofing market by 2020. We currently offer highly reflective white membrane roofing that reduces cooling energy usage. A great improvement to a properly designed roofing system is vegetative roofing. We are currently offering the best in Carlisle Syntec's Roof Garden product lines. Our newest product offering is coming soon. We are currently gearing up to offer DOW Powerhouse Solar Shingles also known as photovoltaic shingles. These shingles harness the power of the sun to be used in your home while providing protection from the elements.